About this service
Tiling
Where interior design is concerned, tiles can easily be an option that is not only affordable but also long-lasting and stylish. It is time to go ahead with the project you have for your floors or walls! Have specialists bring your ideas to life – they will make sure that every step, from surface preparation to grouting the gaps, is executed quickly and to perfection.
Learn more
Popular PROs
All tasks insured for € 1,000,000
Order this service via Discontract App
Try the Discontract mobile app for free now. Order services quickly and conveniently, and choose service providers based on their ratings, prices, and work experience. Do you provide services? Join our professionals and receive payments for your work within 24 hours.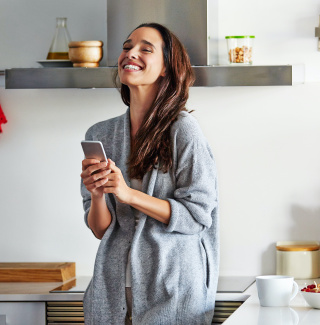 Tiles are not only practical – they can also substantially revamp an entire room, and at an affordable cost. While you can install tiles all on your own most of the time, a professional service will give you professional results. Hiring a tile installation pro can also help you with choosing the type of tile that's best fit for your home, advise on care and do the installation job in a fraction of the time. For long-lasting, quality work book a tile installation service today.
Tile Installation Service Cost
Area size in square meters and type of tile are the two most significant factors affecting the cost of your flooring or backsplash project. Learn how to estimate the cost of installing tile in your home — and find out how to hire the best pro for the job.
Determining the size of your project is important for getting an accurate quote from tile contractors. First, measure the length of the floor, then multiply that number by its width. For example, a 3-meter by 4-meter room = 12 square meters.
Type of tile
Tile flooring prices vary greatly depending on the material, manufacturer and demand. Selecting tiles with a higher average cost per square meter affects the total cost of a project.
Repair work
If a tile installation project is in an area that has had a leak, mold damage or a structural integrity issue, the damage needs to be addressed before you can install new tile flooring. Some tile contractors are able to do this work for you (it will cost extra), but depending on the extent of the damage, you may need to hire specialists.
If the needed repairs aren't apparent until the original backsplash or flooring has been removed, your quote will likely increase to encompass this new scope of work. Contractors aren't trying to trick customers when this occurs; in any construction or remodel project that includes demolition, there is always the chance of uncovering surprises.
Communicate clearly with your professional about any pricing changes to make sure you understand what repairs are needed and what the cost will be.
Get free estimates. Contact the best tile contractors near you.
Surface prep
In general, the less time a tile flooring job takes, the lower your cost will be. Even if you're no tile pro, you can see that it's much quicker to install tile on smooth, even flooring than on lumpy areas that need to be sanded out first. Tile installation jobs over smooth surfaces typically cost less because the installer needs to do less prep work before laying the tile.
Location
Your geographic location will affect floor tile installation costs. Tile professionals in larger cities and regions with a higher cost of living typically charge higher rates for services. This is because it costs more money to run a business in an expensive area, and vehicle maintenance and fuel are more expensive.
In addition, very moist or coastal environments can be more challenging for tile installation, so costs may be higher in these regions as well.
Get local costs. Contact the best tile contractors near you.
Size
Most floor tiles come as squares that vary in size. Tiles can also come in other shapes and sizes, including hexagonal, octagonal and rectangular subway tiles.
Small or unusually shaped tiles may require more time and expertise, increasing the overall cost of tile floor installation. Large tiles are far less complex and cheaper to install.
The Most Common Tiling Materials
Let's take a closer look at your options for your new tile floor and how they differ.
Ceramic tile. What is commonly referred to as "ceramic tile" is usually stoneware, which is a type of ceramic made from gray or red clay. Stoneware ceramics are fired in a kiln at a higher temperature than terra cotta, making them stronger. Stoneware tiles are often glazed, which gives the tile a colorful, protective coating. Glazed stoneware tiles are usually double-fired in a kiln, making them stronger than unglazed tiles.
Very affordable and easy to install
Dent, scratch and stain-resistant
Huge selection of colors, shapes, and sizes
Grout can be prone to discoloration
Terra cotta tile. Terra cotta is the cheapest and most fragile variety of ceramic tiles. Commonly used for clay flower pots, terra cotta is orange-red and is often laid without glaze, which makes it highly absorbent of stains, water and other spills.
Natural material, highly durable
Warm, earthy feel
Resistant to mold and bacteria
Very porous; stains and discolors easily
Requires annual sealing
Porcelain tile. Porcelain is the white clay used to make fine china dishes and toilets. Certified porcelain tile can cost nearly twice as much as regular ceramic tile.
Economical; gives you the look of more expensive tiles at half the price
Extremely strong and dense
Long lasting and easy to clean
Can be difficult to repair if it chips
Natural stone tile. Cut stone tiles are strong and durable with pleasing color variations, but they need to be sealed to prevent staining or water damage.
Unique look but very expensive
Boosts home resale value
Durable, but not as strong as ceramic tile
Prone to scratches and chips
Requires annual sealing
Terrazzo tile. These Italian tiles are made from a cement base mixed with stone or marble chips to create a textured and varied surface.
Lasts for decades
Waterproof
Unique style and material
Extremely expensive
Glass tile. Glass tiles are pieces of glass cut into uniform shapes that are bright and translucent. Glass tiles are often used as part of a mosaic pattern for backsplashes and wall tiles, but can also be sold as smaller, individual pieces. Glass tile is generally not used for flooring.
Easy to clean.
Completely waterproof.
A greener choice that's easy to recycle.
High cost and difficult installation.
Ask an expert's opinion. Contact the best tile contractors near you.
Tips to Maximize Your Tile Budget
To keep costs low, avoid intricate designs and smaller tiles. Bigger tiles in simpler patterns cost less to install labor-wise.
Create the illusion of more space. One approach is to use larger pieces of tile, which also simplifies installation and keeps costs down. Another popular way to design bathroom tile in a small bathroom is to lay tile at a 45-degree angle, creating the illusion of more space as you enter the room.
Avoid new tile altogether. A good intermediate step is to put a fresh coat of paint on dated ceramic tiles. This can be done with epoxy primer and semi- or high-gloss paint.
Find a Tile Installation Pro Near You
Ready to get started on your tiling project? Contact the best tile professionals near you today.