About this service
Lawn mowing
Seeing neat, freshly cut grass in your yard is delightful. Enjoy your outdoor space without putting in long hours of maintenance work by entrusting it to experienced professionals.
Learn more
Popular PROs
All tasks insured for € 1,000,000
Jolita J.
Atlieku visas valymo paslaugas,galima periodiskai valyti namus tiek vienkartinis valymas,po statybinis valymas,ofisu valymas ir prieziura. Turiu MB valymas123 Kotedzu,butų, nuosavų namų ir butų valymas. Aplinkos prieziura vejos irengimas... Jeigu reikia israsome saskaitas faktūras Galima dirbti ir su didelėmis imonemis.
Kęstutis T.
Turiu statybos inžinieriaus profesinį bakalauro laipsnį, profesionalius įrankius ir daugiau nei 5 metų darbo patirtį.
Tomas I.
❄️☃️Sniego valymas☃️❄️Avarinių medžių pjovimas, medžių pjovimas, medžių genėjimas, gyvatvorių karpymas, žolės pjovimas, šakų išvežimas, šakų smulkinimas, kelmų išvežimas.
Order this service via Discontract App
Try the Discontract mobile app for free now. Order services quickly and conveniently, and choose service providers based on their ratings, prices, and work experience. Do you provide services? Join our professionals and receive payments for your work within 24 hours.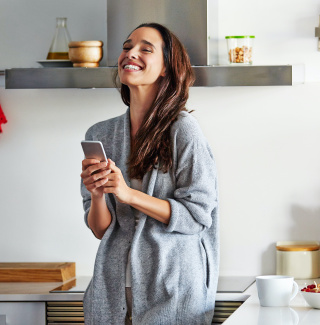 Lawn mowing
A beautiful and well-groomed lawn requires constant and neat care, as well as knowledge and experience of how to properly maintain it. If you think it's only enough to pull out the mower when your lawn looks like an impassable jungle, you won't be able to maintain a flawless lawn look. Not only time and effort, but also a professional equipment is needed for a lush and tidy lawn.
Lawn care tips
How often should you mow?
Usually, homeowners make a mistake while assuming that the lawn should only be mowed when it begins to look unrepresentative. Nevertheless, the frequency of grass cutting has a major impact on the final appearance of the lawn.
Regular watering, mowing and other grass care are essential to maintain a proper lawn life cycle and vegetation. If you want a flawless lawn beside your home that will leave your neighbours and guests in awe but don't have the time to take care of it, professionals will be happy to do this work for you.
The grass should be mowed at least once a week. However, consider what season it is and your watering options or even the rainy weather forecast in your area. In early and mid-spring, it may be enough to mow the grass once every two weeks. Meanwhile, at the end of spring and during the summer season, the lawn should be mowed every week.
What part of the grass height to mow?
When cutting grass, it is advisable to follow the 1/3 rule - never cut more than 1/3 of the total length of the grass. This will ensure that the lawn stays healthy and lush. If the grass has grown extremely high and you want to mow at least two-thirds of the current height for a good-looking result, then you should raise the mower to the highest possible level and mow the lawn. Let it rest for a day, return to it the next day and mow the lawn shorter.
When cutting grass more than 1/3 of the current height, the grass may change colour and lose lush. Leaving the grass stems at a higher level allows the grass roots to strike more firmly in the soil, which will help the grass retain moisture during drought. The higher lawn will also provide shade for the roots and soil, also helping to keep that moisture.
Wet grass and mowing
You should always avoid mowing wet grass. Moist and soft soil will be kneaded and left uneven by the mower, and wet clippings can clog the mower itself. For the equipment to stay clean and the lawn to stay flat and even, wait for the grass and the soil to dry.
Should you mow during a drought?
Drought is an additional stress factor for your lawn, so if you do not have a chance to water the grass frequently and generously on extremely hot and dry days, mowing should be avoided. This will allow it to retain all the moisture that is left for as long as possible.
Trim the edges
The edges of your lawn make a huge difference on the appearance of your whole garden. Whether the lawn reaches the entrance asphalt or the decorative stone area, the uneven and untidy, overgrown grass in these places can quickly ruin the picture. Keep the edges of the lawn tidy - trim them regularly with special garden shears.
Types of mowing
Mowing with a self-propelled machine
Self-propelled electric or petrol mowers are used for homeowners with a small or medium lawn area. Smaller and quieter technology is also more manoeuvrable which is a great advantage in a tiny space.
Mowing the lawn with a garden tractor
This large and powerful lawnmower is designed to mow large areas of lawn. If the area of grass next to your home is extremely wide, this will do the job most efficiently.
Cutting with a trimmer
Gardeners often use a trimmer where the grass grows on a rough terrain or a slope, or where it is difficult for mower to access, for example around plants, buildings, or other objects. Trimmer also helps gardeners to manage well with the overgrown garden environment - shrubs or lush, tall grass.
Lawn mowing cost
The cost of mowing the grass can vary. It will depend on several key factors such as the lawn area size, the condition and height of the grass, as well as the hourly rates of the gardener or even the state and brand of their equipment. The final price can also be adjusted depending on how many times you will need the services – if you only need to mow the lawn once, it can be more expensive than ordering the service for the whole season.
Evaluate your available time resources and needs for the appearance of the lawn. By ordering the lawn mowing service for the whole season, the price of one-time mowing will be lower, thus you will save that precious time and won't have to worry about professional mowing equipment.
Find a mowing pro near you
If you look at the well-groomed lawn of your neighbours next door every time you pass by and can't help it but feel jealous, get rid of that feeling by ordering a lawn mowing service and enjoy a perfect looking lawn that will change the whole image of your exterior. Find a lawn pro near you today!