About this service
Wall mounting
The installation services you are looking for are now easier to access than you might think.
Learn more
Popular PROs
All tasks insured for € 1,000,000
Order this service via Discontract App
Try the Discontract mobile app for free now. Order services quickly and conveniently, and choose service providers based on their ratings, prices, and work experience. Do you provide services? Join our professionals and receive payments for your work within 24 hours.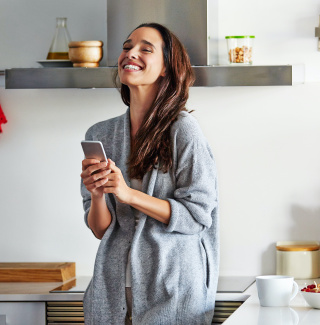 Furniture (shelves, kitchen cabinets), TV, artwork mounting and installation is not only great for aesthetics and can help you optimize your space better – it also reduces the risk of accidents in your home. If you've got small children, wall mounting is an important safety measure. From TVs, shelves and artworks to blinds and shades, find a pro on Discontract to make sure your items are properly mounted and hung.
Mounting Service Cost
On Discontract, wall-mounting pros charge hourly rates, and therefore, pricing for these services is generally based on how long the job takes. If you have only a few windows to install blinds or shades on, you can expect the work to be completed in under an hour. The same goes for artwork and, in some cases, shelving; however, keep in mind that as the number of items to mount goes up, so will your task duration and cost.
TV Wall Mounting
If you've got a new TV to set up in your living room, you probably already know you need help to get it mounted properly. It's normal to feel nervous about this task, and pretty common to get someone to help do it right. This is often a job best left to the pros, as they'll have the proper skills to secure the TV properly. Let them do it right, so you can leave concerns behind and simply enjoy curling up with your favorite movie.
Flat-screen TVs of any size can be mounted onto a range of surfaces, including stone, plaster, brick, wood, drywall and concrete. A local professional will be able to tell you if you can use existing electrical outlets in the room, or if you need to consider having a new outlet installed.
It should take approximately two hours to hang your TV. If you require additional services, it may increase time. To save on time and service costs, ensure that the area is cleared before your pro arrives for the installation.
Shelf Mounting & Installation
Shelf mounting: sounds simple, gets hard quick. If you've ever struggled through the process of balancing a drill, drywall screw, and a bracket with one hand, you know how unpleasant this seemingly simple experience can be.
Fortunately, the time has come for you to stop punching holes in your walls and start hiring someone to do it right for you the first time. Shelf mounting and installation experts specialize in installing floating shelves, closet shelves, wire shelving, and more.
If you're looking for a reliable, skilled pro to help install shelves for your home, office, business, and more, book a wall mounting service near you today.
Blind & Shade Installation
Do you often walk into a room at a certain time of day and have the blazing sun beam right into your eyes? You may have to retreat to another area or switch seats until the sun changes position in the sky. Blinds and window shades can solve this problem, and they don't have to be an expensive home improvement project.
On top of looks, installing blinds can also increase energy efficiency, help keep your home cooler, and reduce air conditioning costs in summer.
Hiring a professional blind and shade installer can help ensure your new blinds fit your budget and your window frames as well as save you time and effort.
Installation method: inside vs. outside mount
There are two main blind installation methods: inside mount and outside mount. Inside mount blinds are installed inside the window frame for a sleek look, while outside mount blinds are installed on the drywall or molding outside the window frame to block more light.
The installer will plan the install, mark and drill holes, mount the head rail or other hardware, install the blinds, and haul away your old blinds, curtains, or shades. If you want cornices to hide the head rail or other hardware and beautify your window covering, this will add to your total cost.
Cost of window coverings
Keep in mind that the cost of installation does not include the price of the coverings themselves. You can buy your own or have the installer supply the blinds, which may be more expensive. The price of your window blinds will depend on the type, material, and whether you opt for custom blinds.
Tips to save money on installing blinds or shades
Rather than cut costs on quality, save on blind and shade installation with the following tips:
Remove your old window treatments. Save money by grabbing a screwdriver to remove old hardware and window treatments on your own.
Opt for prefabricated blinds or shades. A ready-made or cut-to-width option is often a cost-effective alternative to expensive custom window coverings. Before you purchase anything, be sure to measure your windows to make sure you get the right size.
Compare service rates in your area. Take a moment to check local prices to make sure you don't overpay for the service. Sign in to Discontract and compare hourly handymen rates near you in just a matter of minutes.
Whether you're giving your living room a refresh, or upgrading to darker blinds so you can go to sleep in total darkness, an installation specialist can help. If you're ready to get started, read reviews and find a shades and blinds installation pro near you.
Art Installation
Picture hanging and art installation service providers come to your home or business to professionally mount framed art and memorabilia, sculptures, decor and more on the walls using the correct mounting hardware for the art piece and type of walls you have.
Using the correct hanging method is critical when installing artwork to protect both the piece as well as the wall that it's being hung on. It's always a good idea to inform the art installer upfront of the wall surface at your home or business.
We recommend that you provide as much detail about the items to be hung in advance to help save time and increase the accuracy of the initial estimate. Additionally, sending photos of the backs of the pieces to be hung can give the installer a better idea of what tools and hanging hardware are required.
Find a Wall Mounting Service Pro Near You
Reduce glare. Increase safety and aesthetic appeal. Find a TV wall mount installation expert near you today.