About this service
Painting
Find the best painting service providers and give the walls of your home new life.
Learn more
Popular PROs
All tasks insured for € 1,000,000
Order this service via Discontract App
Try the Discontract mobile app for free now. Order services quickly and conveniently, and choose service providers based on their ratings, prices, and work experience. Do you provide services? Join our professionals and receive payments for your work within 24 hours.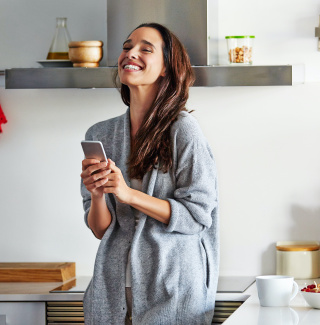 Tired of looking at old, dull walls? Need a way to cover some all-too-visible imperfections in your bedroom or living room? A fresh paint job might be the answer. It's a task that can take hours, and if you're not too skilled at handling a paint roller and brush, you might end up with frustration, and not the results you want. Give your walls a fresh look without the added stress – hire professional painters near you.
Painting Cost
When sorting out your budget for a painting service, consider three main cost factors: the pro's hourly rate, the time it takes to complete the paint job, and the painting supplies you will need. The final cost of your project will therefore depend on several things , including the size of your room, the type of paint, primer or finish you choose, how many coats you need, your ceiling height and the cost of hiring painters in your area.
To get a better idea of how much you'll pay, you can ask for free estimates from painters in your area.
Prep and Repair Costs
Before you begin a painting project, your professional painter will assess your walls, trim, and ceiling for necessary repairs. The more pre-work that's done, the better the end result will be. Prep work includes wall patching, sanding to repair previous poorly-layered paint jobs, door trim and baseboard caulking, and more.
Painting Materials
Once you have an idea of the room size in square meters, you can factor in material type and cost into the overall painting estimate. Let's look at the different types of paint a pro can offer:
• Matte: Matte paint doesn't have a sheen finish. This material type is the most common and the most affordable, and is ideal for rooms that receive a good amount of direct sunlight. Unfortunately, matte paint shows damage and marks quite easily, so it's not the best for high-traffic areas of the home or playrooms.
• Eggshell: Eggshell gives off a subtle shine, but nothing incredibly noticeable. It's great for rooms with a softer light, where a bit of reflection is welcome.
• Semi Gloss: This material finishes hard, and can easily be cleaned – a perfect candidate for trim and molding.
• High Gloss: High gloss is stunning when done well. It reflects light, but at the same time reveals imperfections. Multiple coats are needed, and therefore the drying and project time will be longer. High-gloss paint often falls on the higher end of the price scale.
Interior and exterior paints contain different types of pigment. Those containing pigments that fade quicker are most often used for interior painting projects. Additionally, exterior paints need to be able to withstand harsh conditions, like rain, wind, and extreme temperatures. Because the exterior is an area with less traffic, exterior paint isn't as durable when it comes to scratches and scuffs, so it's best to stick to an interior material for indoor walls and ceilings.
Not sure what kind to get? Ask the best painters near you.
Painting Detail Costs
Baseboards, casings, crown moldings, windows and rails all require extra time to be painted, which in turn will increase interior painting spend. Painters will charge for additional tape, contrast or matching paint, and materials needed to paint extra trim.
Wall textures
Textured walls require more paint for adequate coverage. Texturing may be pre-existing raised texture formed with joint compound, or clients can request new texture be applied by the painter through specialized painting techniques. Send a photo of the current wall to your painter for a more accurate estimate of how long the task including wall texturing will take.
Repair and repaint work
Many interior painters offer small drywall, ceiling, and baseboard repair services in addition to painting. Any additional labor and materials used will increase the overall cost. For this reason, new construction is often cheaper to paint.
Estimating the Cost of Painting a Room
It's helpful to ask yourself the following questions when you're estimating how much you'll pay for interior painting services.
How many interior rooms need to be painted? Your prices will go up if you need more rooms painted. However, the cost of painting two rooms is generally not double the cost of one room. An extra room just adds more square meters, some extra time and more liters of paint.

How high is my ceiling? The higher the ceiling, the higher the walls — and that means more time and more paint.

How large is my room? Your room's size may have a large impact on your overall price. For an accurate quote, have measurements of your room ready when you contact a professional.
Measuring Your Rooms
Measuring your room is an important step when you're collecting quotes and estimating how many liters of paint you might need. Have a tape measure in hand and a way to record the measurements. You can use a pencil and paper or save everything on your phone or computer.
Measuring your interior walls: Pull your tape measure horizontally to measure the width of the wall in meters. Next, measure the vertical height of the wall from the top of your baseboard to the ceiling. Multiply those two numbers together for the total size of your wall in square meters.
Measuring your bedroom: Start by measuring your walls. If one of your bedroom walls has a window or door, repeat the same process (measure width and length, then multiply) to measure the size of the window or door in square meters. Subtract the area from your total size in square meters for that wall. Add all your wall measurements together for the total area of the room.
Additional Factors That Can Impact Costs
Besides the size and type of room that needs to be painted, there are a few more factors that can affect your cost:
• Location. Painters in different cities or countries have different rates. Do a search on the Discontract and compare different painter rates in your area. And remember to also ask your pro for a free duration-based task cost estimate.
• Furniture. Some pros may charge extra for the time it takes to move furniture, while others will simply cover it with plastic and work around it. In any case, you might want to do some prep work by moving your furniture to a different room or to the center of the room. Don't forget to remove pictures and decorations from the walls, too.
• Surface and wall condition: The texture and condition of your walls (or other interior surfaces) can affect the final cost.
• Type of paint and how much you need: It's important to decide what kind of paint you want before making a final budget. Your costs will vary depending on the type of paint, primer and finish you choose. Your expenses may also increase if you need multiple coats.
Prepare Your Home
Besides being simply courteous, preparing your home for a professional painter can also be a good way to save time and money on labor costs. Move your furniture away from the walls, preferably out of the room entirely.
If you don't have the space to move everything out, simply move it to the center of your room or cover it with plastic. The painter may also provide plastic coverings for your furniture – to check, simply call or send a message through Discontract. Remember to remove outlet covers, clocks, mirrors and anything else on the walls.
Next, clean your walls (and other surfaces that will be painted) with a sponge and a simple mixture of water and detergent or mild soap. This doesn't have to be a time-intensive deep clean — just do your best to remove all the dust and dirt that's gathered on your walls over the years.
You should expect the painter to walk through your home before the project begins, as they need to see the condition of your home's interior. They may take pictures, measurements and notes to give you a more exact estimate.
Find an Interior Painter Near You
Hiring a professional to paint the interior or exterior of your home can be a worthwhile investment for homeowners. It can save you valuable time, labor and improves the quality of your home. Get started today by finding a professional near you.